Improve
Investigative Accuracy
Managing Digital evidence and case documents can be complicated — but it doesn't
have to be. GoPro AFIP offers one central system for storing and organizing information. Share documents with your investigative team. Collaborate with other departments. Keep an eye on what changes were made to your case files, and
by whom. Find the information you need, when you need it.

"

"

Prevent Costly Errors

Avoid legal trouble by making sure your employees comply with industry regulations
and professional standards. GoPro AFIP's mandatory task system prevents users from skipping vital steps or missing deadlines. A built-in sidebar displays contextual guidance and company policies. By providing reminders and eliminating shortcuts,
GoPro AFIP helps to promote self-regulation.

"

"

Protect
Evidence and Confidentiality
Prevent sensitive materials from falling into the wrong hands. Choose when and who
to share case documents with. Keep your informants safe and anonymous.
GoPro AFIP supplies all the tools you need to conduct investigations and manage
information without compromising security.

"

"

Defend
Yourself Against Corruption
GoPro AFIP ensures that those engaged in fraudulent activities have no place to hide. Detailed user histories are logged automatically, creating an audit trail that can stand up to legal scrutiny. Customizable user permissions prevent unauthorized access to sensitive files. By enforcing a high levelof security and transparency,
GoPro AFIP can deter corruption before it starts.

"

"

Save Time and Resources

GoPro AFIP reduces your administrative burden by implementing a simple way to manage information. With fewer hours spent filing or searching for documents, investigators and caseworkers can work more productively. Seamless integration with in-house systems, email clients, and productivity software allows users to easily incorporate GoPro AFIP into daily routines without disrupting workflow.

"

"
Why is GoPro AFIP
the right solution for your organization?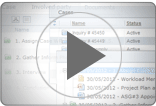 Client Spotlight
Secure Mobile Framework now as part of GoPro AFIP

FRAUD & ERROR 2013
One Gerorge Street Conference Centre, London